About Shawver & Son
Over 100 years of excellence in electrical contracting and engineering.
do you have a project we can help with?
Quality & Integrity
Founded in 1919, Shawver & Son, Inc. is the most experienced electrical contracting company in Oklahoma. Based on the principles of quality and integrity established by our founder, John Shawver Sr., and with the Oklahoma work ethic of all our employees, we have grown to become one of the largest and most respected electrical contracting companies in the southwest.
Shawver & Son, Inc. has earned and maintained a leadership position in the industry with a proven track record of delivering on time and on budget electrical installations. From major commercial and industrial installations, design/build requirements, data and communications projects, 24-hour service response, to pro-active electrical maintenance contracts, Shawver & Son, Inc. can meet any of your electrical needs.
Our Mission
Since 1919, Shawver & Son, Inc. has prioritized delivering quality electrical installations for competitive bid, negotiated and design-build projects at competitive, cost-effective prices and provided personalized service to fulfill our client's specific requirements. We offer an electrical service department with the latest in training and technology to help our customers maintain their facilities. We strive to build on our reputation as an ethical and well respected contractor and to continually improve upon our service in order to be the best within the electrical, security, and TeleData industries.
We value our clients and customers, and we constantly endeavor to enhance our strong relationships with them. Through teamwork, support, and service for the long term we form a partnership with our clients.
Shawver & Son, Inc. takes pride in providing our customers with top quality workmanship, safe working standards, and professional customer service while using modern technologies and electrical engineering expertise.
Our History
Lighting the way in Oklahoma for over 100 years
Shawver & Son, Inc. started as McEldowney & Son Electrical Contractors in 1919. McEldowney hired John W. Shawver as an electrical engineer and electrical construction supervisor in 1947. He acquired all of the McEldowney family interest in 1954, and in 1956, after the return of John W. Shawver II from military service in Korea the name was changed to Shawver & Son, Inc.
Originally from Shoshoni, Wyoming, our founder John W. Shawver, Sr. PE graduated with a BS in Electrical Engineering from the University of Colorado in 1925. He moved to Oklahoma City in the 1920's working as a field engineer for OG&E. Shawver "Senior" helped build much of the high-voltage underground electrical grid system of downtown Oklahoma City.
John W. Shawver, Jr., PE attended the University of Oklahoma and graduated with a BS Electrical Engineering from the University of Colorado in 1953. After working for Westinghouse Electric in Pittsburg and a tour with the USAF in Korea he joined the company in 1956 becoming president in 1966. John II and Dan Cheatham expanded the company into major commercial, manufacturing and institutional construction projects throughout Oklahoma in the 1960's and '70's building schools, grocery stores, shopping malls, hotels, lock & dam and manufacturing facilities and becoming one of Oklahoma's largest electrical contractors.
Dan Cheatham was president from 1981 until his retirement in 1992, when John W. Shawver III became president. Dan was a Korea veteran Marine and had degrees in mathematics and chemistry. John III graduated with a BSEE from OU in 1985 and Don Schluchter, PE, also an OU graduate served as president from 2010 to 2018.
Norman Barnett, our current president, enrolled in the IBEW/NECA apprenticeship program after a few years of college. After working as general foreman at Industrial Electric and Shawver, he moved up to project manager and estimator, then vice-president, becoming president in 2010, from an apprentice to president of the company with over 40 years of experience.
All of the Shawvers, as well as Dan Cheatham , Chris Schoolcraft, and Norman Barnett have served as President of the Western Oklahoma Chapter of the National Electrical Contractors Association (NECA). Chris served as District 5 Vice President of NECA national from 2005-2008 representing the southwestern region of the U.S and was instrumental in implementing the construction electrician and construction wireman programs nationally. Officers of the company have served on numerous national, state and local regulatory bodies and code-making committees.
For over 100 years the company has grown from a few electricians and engineers to hundreds. Our employees are the best trained in the electrical construction business. Every project is planned and constructed to meet or exceed our customers' specifications. We have always strived to provide the best quality and meet the highest standards of professional service.
Certifications & Affiliations
Safety in the Workplace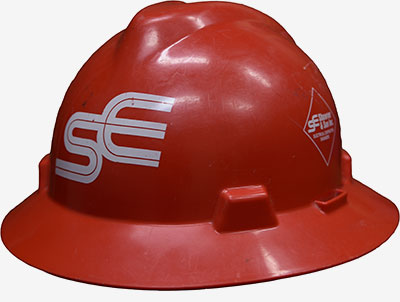 Safety is a top priority for all employees at Shawver & Son, Inc. It begins with an intensive orientation for all new employees and carries through to the jobsites with all members of the crew working together to prevent accidents and injuries.
We keep our employees up to date with the fast paced changes that are occurring in the Arc Flash area as well as the other changes that affect our employees. This is accomplished through weekly safety meetings for all employees and additional safety meetings and training for our supervisory personnel.